Eaton
Intelligent Power Software Suite
Eaton's Intelligent Power Software Suite gives you all the tools you need to manage power devices in your physical or virtual environment. This innovative software solution ensures system uptime and data integrity by allowing you to monitor, manage and control the devices on your network remotely. We offer two levels of software within the suite: Intelligent Power Manager and Intelligent Power Protector.
Documentation: Brochure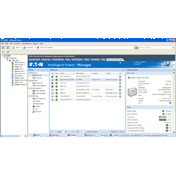 Features
Eaton's Intelligent Power Manager software enables you to:
Remotely monitor and manage multiple devices across your network from a single interface; this can be integrated into an already existing platform, such as VMware, Microsoft or Citrix
Measure power consumption and kWh to calculate power usage effectiveness
Trigger live migration for virtual machines during power outages
Eaton's Intelligent Power Protector software enables you to:
Reboot hung-up machines through watchdog functionality
Avoid data loss by automating graceful shutdown of machines during extended power outage
Maximize uptime with redundancy capabilities for dual-cord servers
Catalyst Technology Group USA, Inc. and Eaton
Catalyst Technology Group USA, Inc. has been providing professional IT services for almost XX years. As technology has continued to advance and evolve, so have we. Our dedication to being the best at what we do and our fanatical focus on customer service has resulted in Catalyst Technology Group USA, Inc. being recognized as a leader in the IT industry.
Contact Us Today!